Council has approved a FoodCycler pilot program. Join your community in tackling food waste by piloting FoodCycler™ technology in your home.
In partnership with Food Cycle Science, the District of Tumbler Ridge will offer 200 FoodCycler™ units at a subsidized price to residents to use in their homes. Two different-sized units will be available to use.
About the pilot project
The FoodCycler™ pilot project will measure the feasibility of in-home composting of food waste to help protect the environment and extend the lifespans of our regional landfills and reduce waste at our transfer station.
The FoodCycler™ pilot project is 12 weeks in length (June, July, and August 2023)
Participants will purchase the FoodCycler™ from the District of Tumbler Ridge for $150.00 or $300.00 (plus GST)
Participants will receive a guide listing common acceptable materials, and hints and tips
Participants will complete a tracking sheet and one online survey upon conclusion of the 12-week pilot
Participating households will keep the FoodCycler™ following the conclusion of the pilot
The In-Home Food Waste Diversion Solution
Join the Municipality in tackling food waste by piloting FoodCycler™technology in your home. Support the Municipality by testing this innovative technology!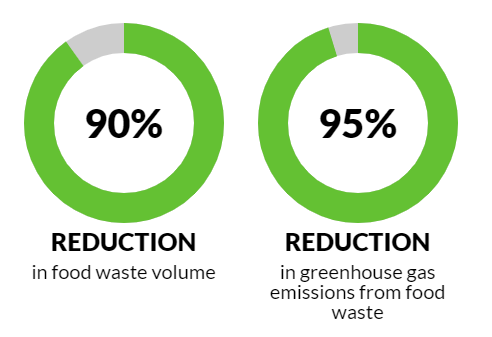 Food Cycle Science has created this guide as a resource for you while participating in the Pilot Program. In the following pages, you will find an FAQ section, an itemized list of items you can process with your FoodCycler™️ and a table you can use to track the number of cycles done with the FoodCycler™️ over the pilot period.
Price
The usual retail cost of a FoodCycler™ is $500. Thanks to a subsidy from Food Cycle Science, Agriculture and Agri-Food Canada through the Impact Canada challenge, and the District, participants will purchase the FoodCycler™ from the District for just $150.00 (plus GST) or $300 (plus GST) depending on which model they choose.
About the FoodCycler
Founded in 2011, FoodCycle Science is a Canadian company that produces residential and commercial devices that use electricity to compost food waste into a finished compost product quickly.
FoodCycle Science's residential device is called FoodCycler™. It is 32 cm x 27.94 cm x 36.07 cm (approximately the size of a breadmaking machine). It can hold up to 1 kg (2.5 litres) of food waste. Using electricity, the device dries and grinds food waste (fruit cores, vegetable peels, dairy, chicken bones, and more) into a dry, odourless, nutrient-dense by-product significantly reduced in weight and volume from its unprocessed state. The end product is free from bacteria, and weed seeds and food-borne pathogens are eliminated in the process.
Each "cycle" of composting takes approximately four to eight hours. The FoodCycler™ uses 0.8 kWh of electricity (approximately 10 cents per composting cycle).
The FoodCycler™ can be viewed as a complement to (not necessarily a replacement for) backyard composting or digesters.
Pilot project funding
This pilot project is funded by:
District of Tumbler Ridge
FoodCycler™ FAQs
Questions on operation or troubleshooting?
FoodCycler™ Science provides customer service support through their support line, 1-855-367-6692, and email address info@foodcycler.com
Accessory products can be ordered here.